from my QRZ page
September 22, 2018
Last week nice weather, so time before the winter starts to set up and improve some antenne's
The 2 yagi's on the right, near the V2000 vertical,  are fixed to F5ZVQ.
The  (D)ATV repeater on Crêt Monniot at a little over 100 kilometer distance from me.
70 Cm for RX and 23 cm for TX,
The left mast has a 13 cm yagi and 13 cm dish, a 23 cm yagi, a 70 cm and a two meter yagi.
I now hope to receive better signals on 13 cm for DATV links.
Unfortunately I am on a bad spot for UHF/SHF because of  my QTH is at a lower height than the surrounding area.
There are plans to make 4 loop-yagi's for 23 cm.
At present the HB9BBD beacon on 1296.050 is difficult to receive here.
I also like to improve 144 & 432 yagi's for LFA one's (Justins G0KSC development)
I do expect to be active during the october UHF/SHF contest.
September 3
The 144 MHz contest in Luxembourg is finished.
All techniques worked great.
We did not miss any part during build up the contest-site, due to a bunch of spare parts.
Own QTH:
Roof renovation of my QTH is finished.
Some improved antenna's are now on the antenna mast.
I removed the earlier placed 1,4 meter disk for improvement of the feed.
So now only 144, 432 and 1296 MHz yagi's are used for now.
Furthermore two yagi's on 432 and 1296 are used for the DATV  repeater Crêt Monniot F5ZVQ , they are mounted with fixed direction.
The 50 MHz Beam and the Butternut vertical for HF are in the back-garden  connected with good quality coaxial cables to the shack.
Furthermore work in progress for the new PA to be used on 23 cm using Jim W6PQL's last project.
The PCB is received, The special Power-FET is already waiting for some months. A proper power supply is present.
The output will be over 400 Watt.
To be used for SSB and, with reduced power ATV and DATV.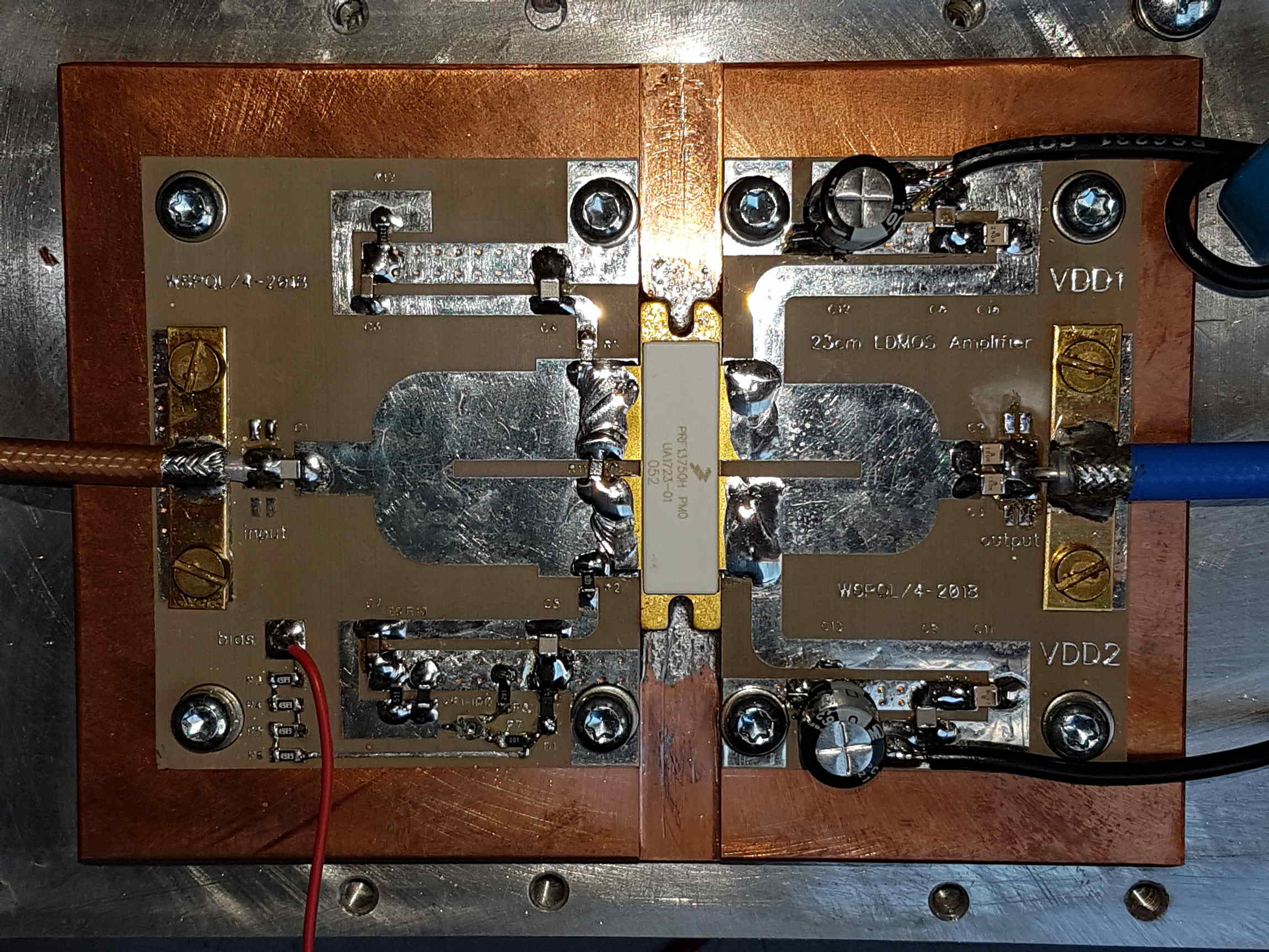 I need power for the higher frequencies because of the height of my QTH.
It is surrounded with higher hill's and mountains.
All 144 MHz tests made in august has been positive.
Stating with preparation tor logistics together with PA0BDC for Theo PA1TK last contest to be held in Luxembourg september 01 and 02.  Theo's call during the September contest: LX/PA1TK/P
All equipment for the 144 MHz contest is ready.
Charles PA0BDC and I,  F4VSG have some activities like comparing equipment and optimising antenne's on 23 & 13 cm plus 10 GHz.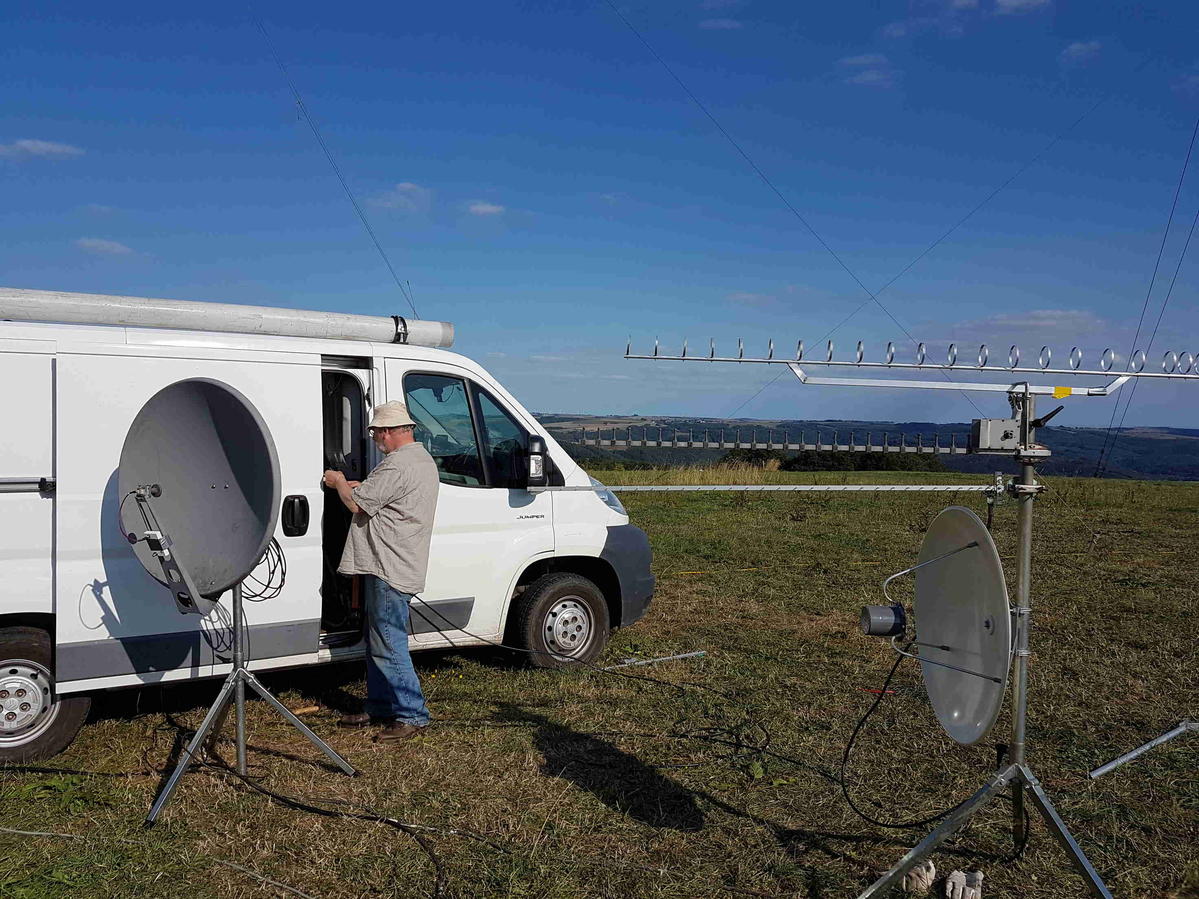 Beacons were used to compare on 23 & 13 cm.
On 10 GHz several beacons could been heard.
2018  Preparing for the september contest with PA1TK ;  LX/PA1TK/p
My Citroën Jumper is now fitted with a Clark air-driven mast. The plan is to fit four yagi's with stack-distance of 2,5 meter.
So a 8 meter aluminium pipe construction has to be mounted on the antenne-rotor  on top of the Clark-mast.
Can we still extend the Clark mast with all of the extra weight ??
So a good idea to test that before the September contest !!
The august 7 activity contest was a nice date to test the above and make some qso's together with Theo PA1TK
All worked nice. First the Clark mast was lowered to fit the antenna rotor and extension pipes.
On the next photo's PA1TK  (because I, F4VSG,  was making the pictures)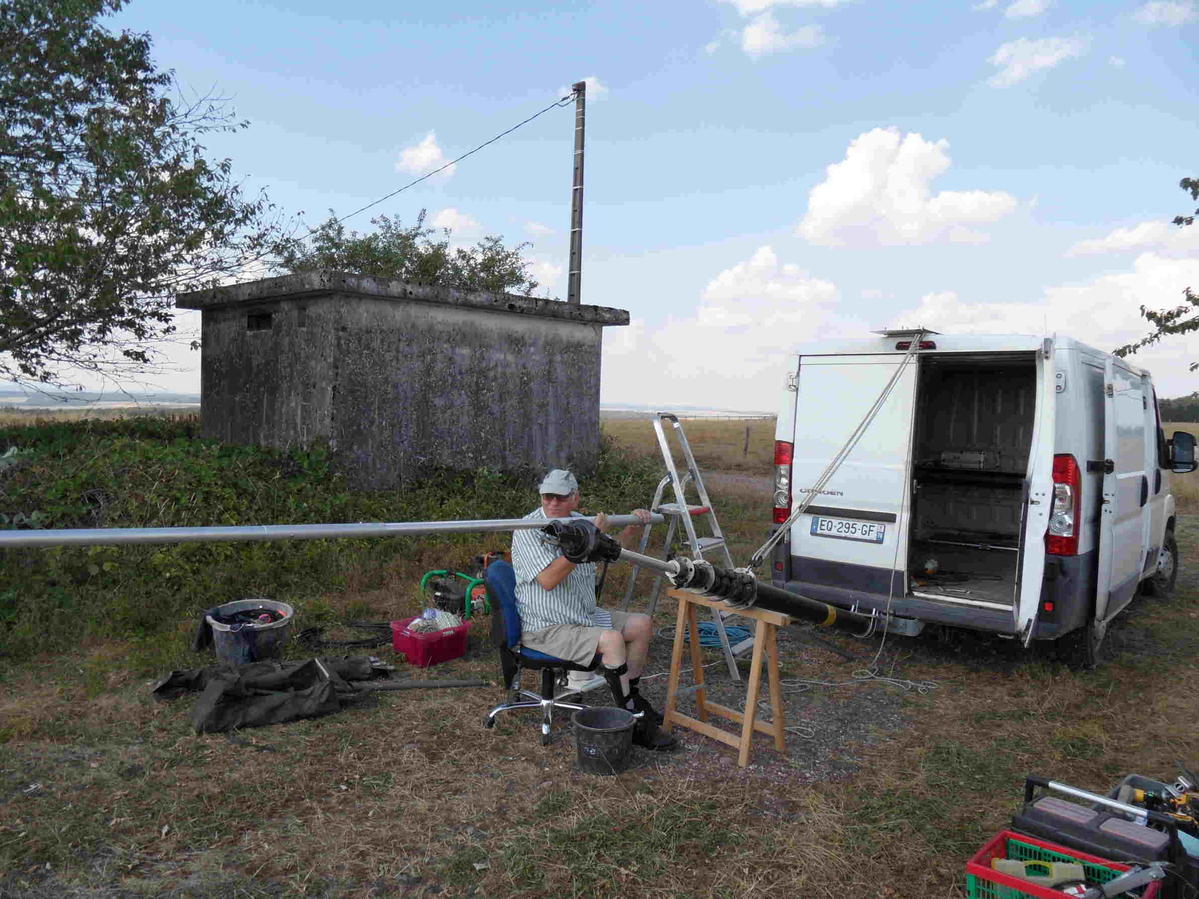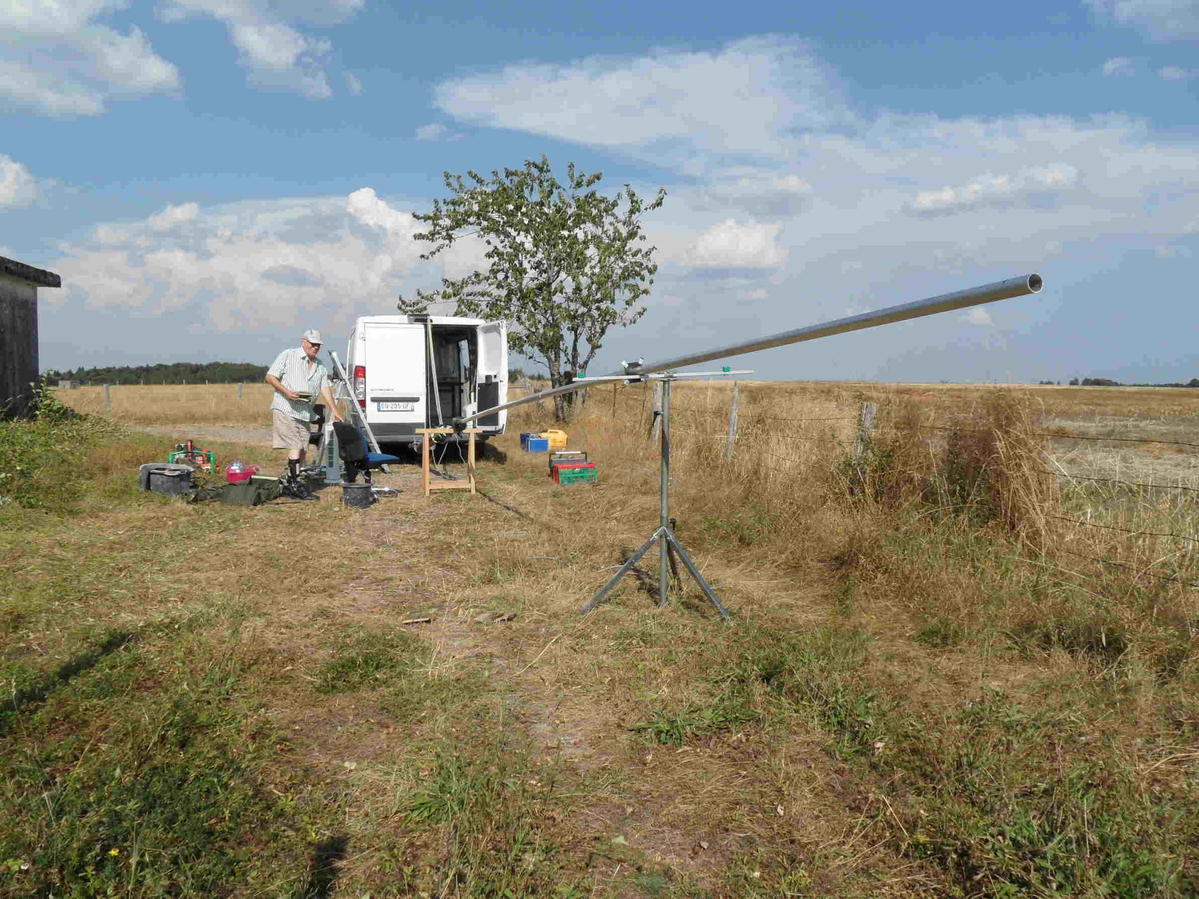 And finally :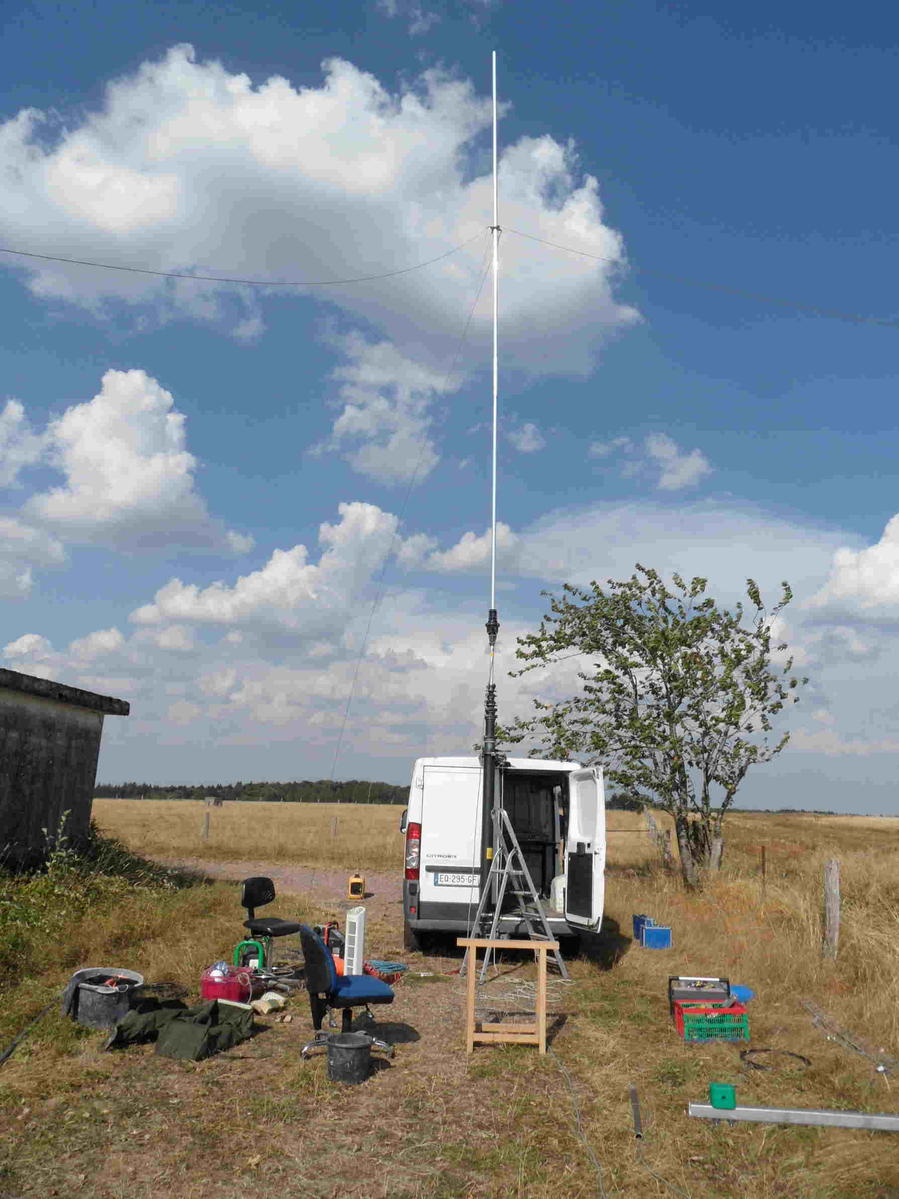 We did not extend the Clark mast to the limit due to some wind but the mast could be extended with acceptable compressor pressure.
Then we lowered the mast and mounted only two TONNA yagi's on a 3 meter aluminum pipe with the proper stacking distance.
Only the rotor on 4,5 meter height due to wind conditions, (thunderstorms were near us), but we we able to work some 27 stations OZ1ALS (JO44XX) at 814km and SK7MW JO65MJ at 946km as best dx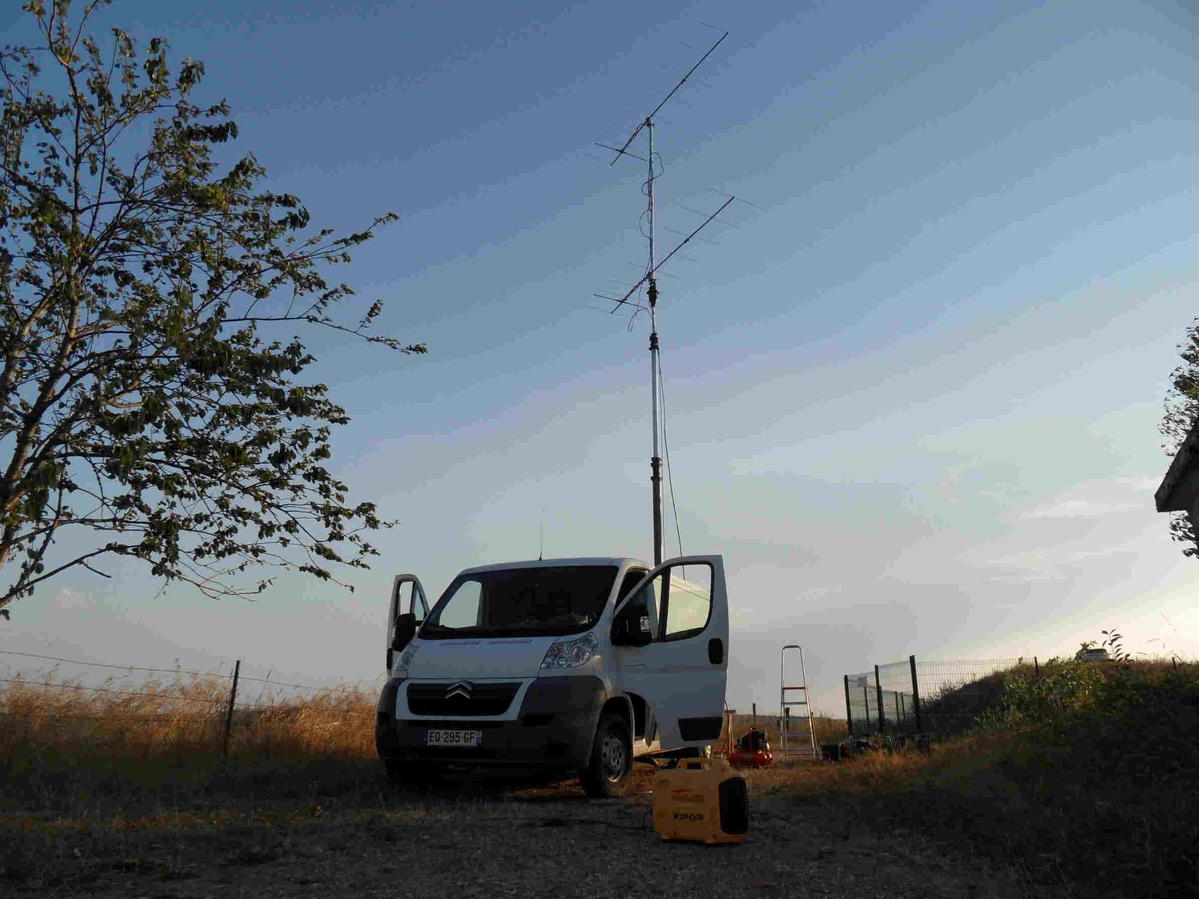 Theo PA1TK in the Citroen Jumper
with a nice table and chair. Only little RF power. A small 230 Volt generator was used for these tests.
Championat de France on June 3/4 2017.
PA0T, PE1BBI, PE1ITR, PA1NG, PA1TK and PA0RJV, were active from JN39FL on
144 MHz, 432 MHz,1296 MHz, 2320 Mhz and 10368 MHz.
Unfortunately a lot of rain during the night.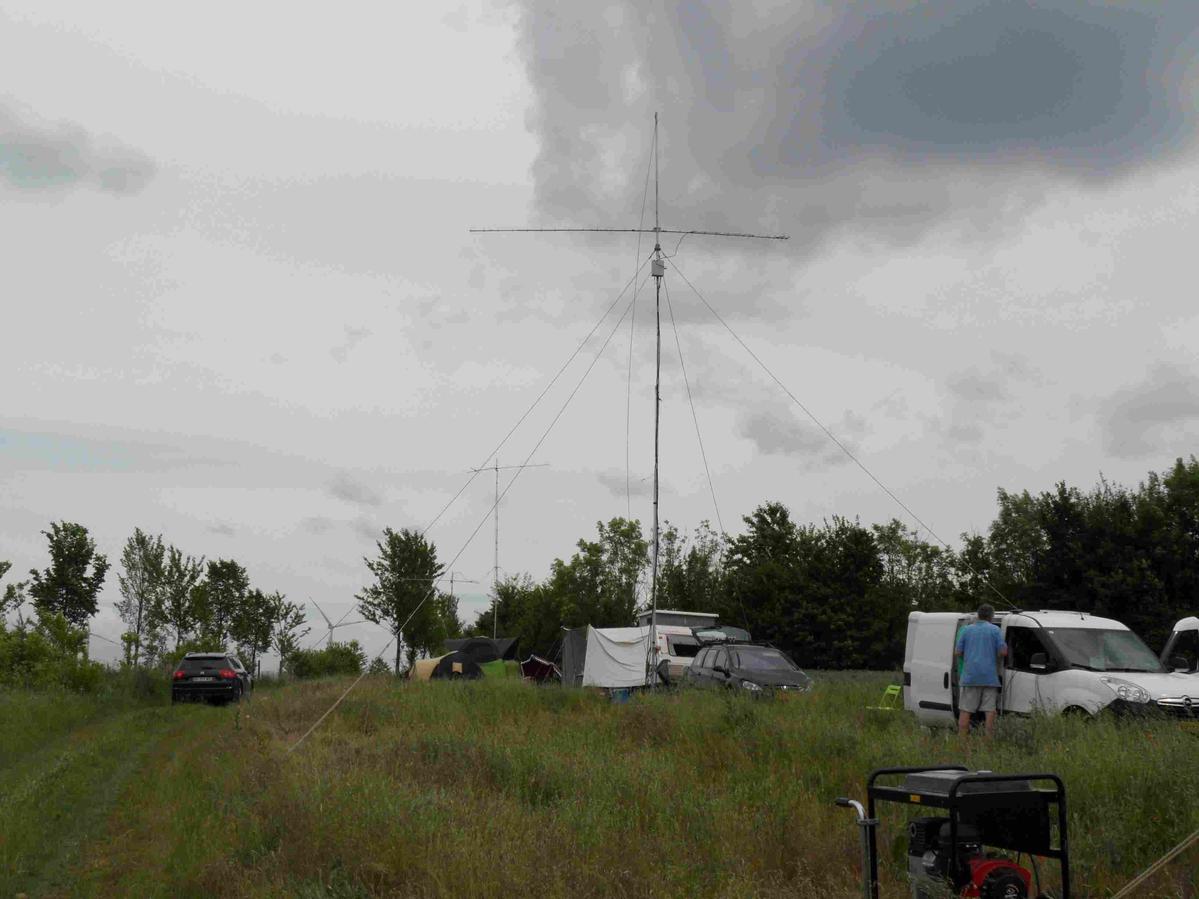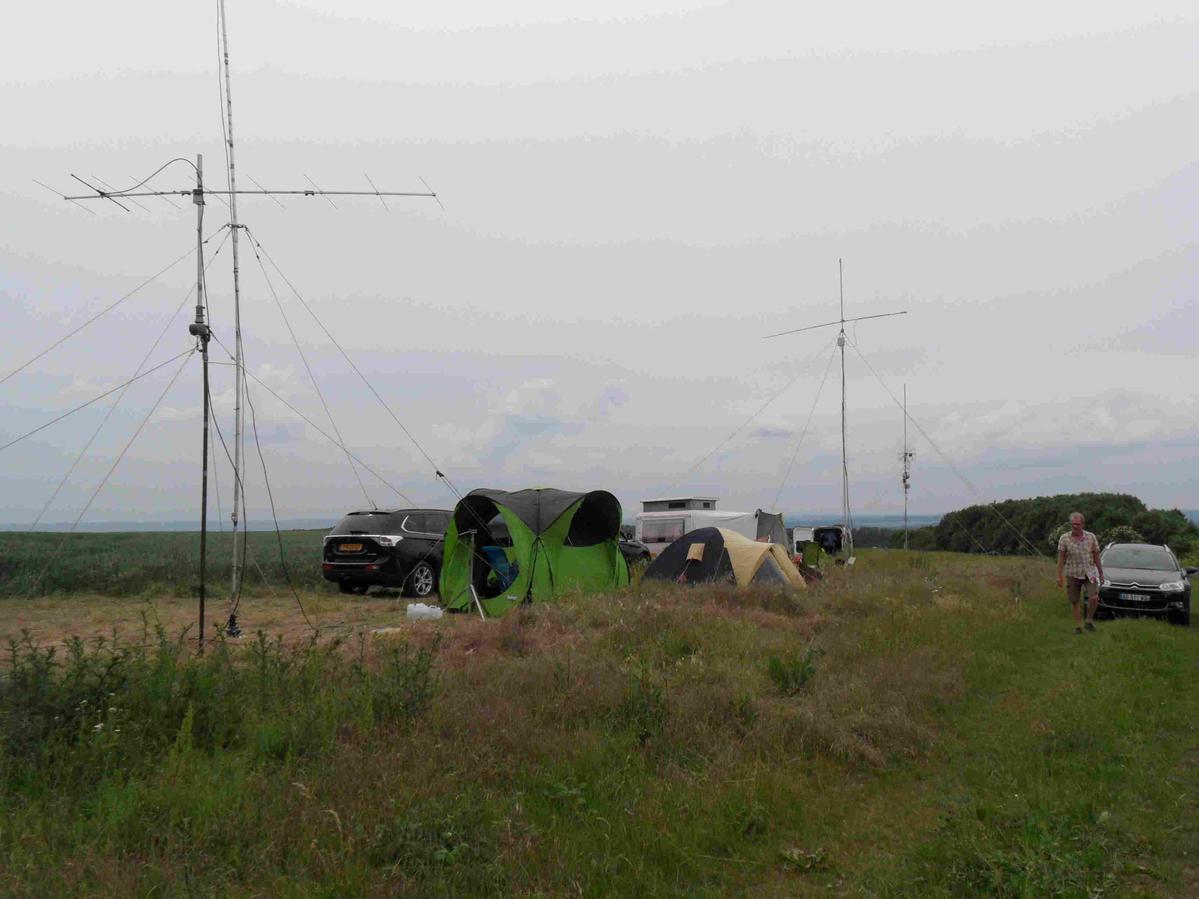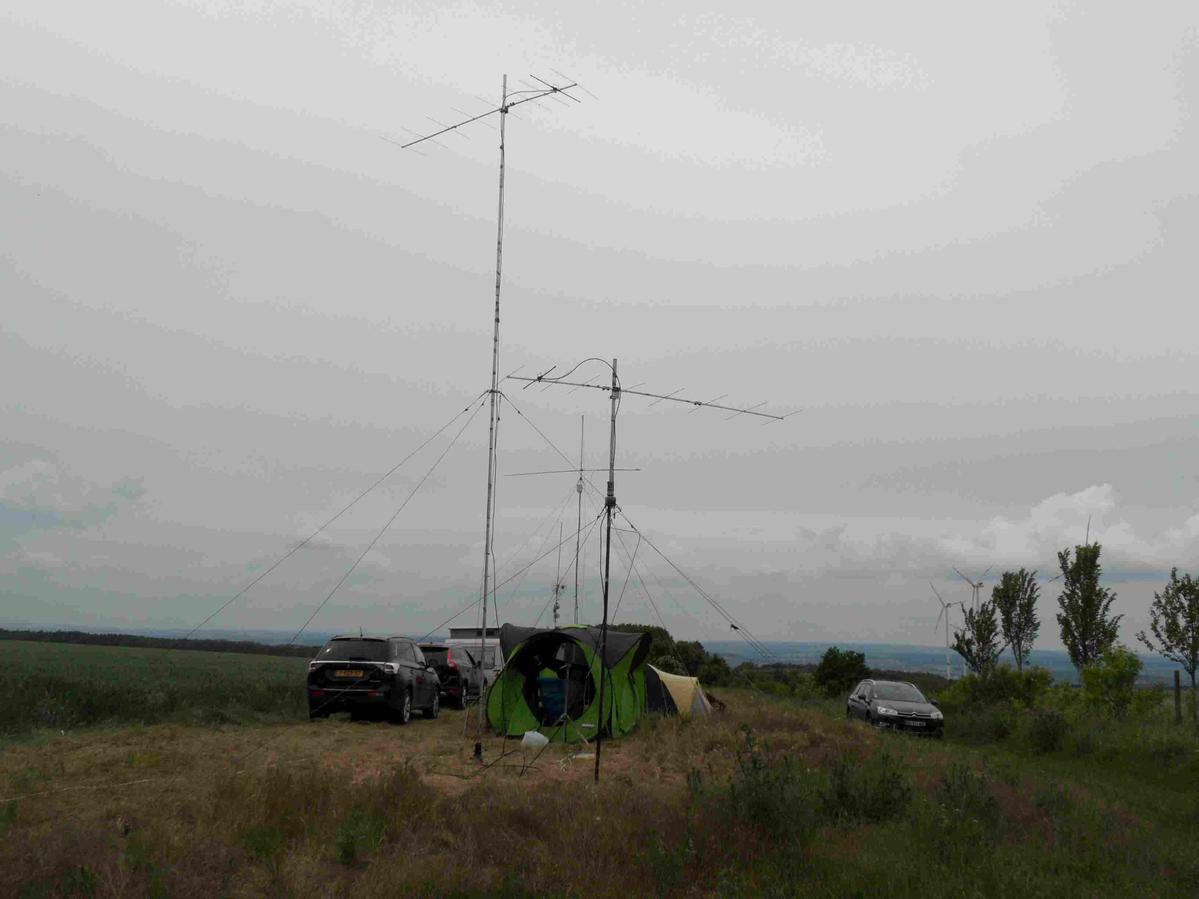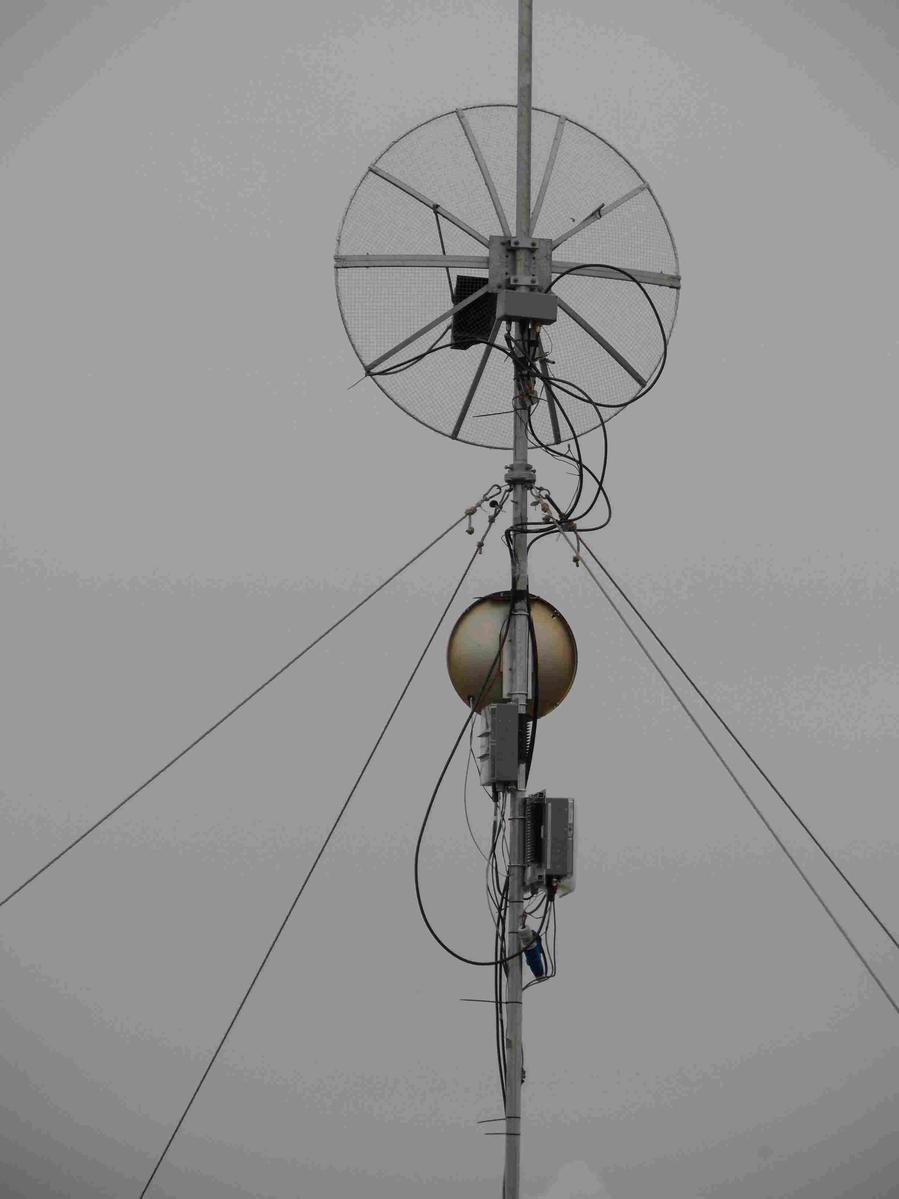 Some impressions during the contest.
F4VSG:
Licenced for over 45 years.
Active on higher frequency bands (up to 10 GHz), but sometimes also on 144 and 432 MHz.
Active developer and builder of ham equipment.
Also active with ATV & DATV modes.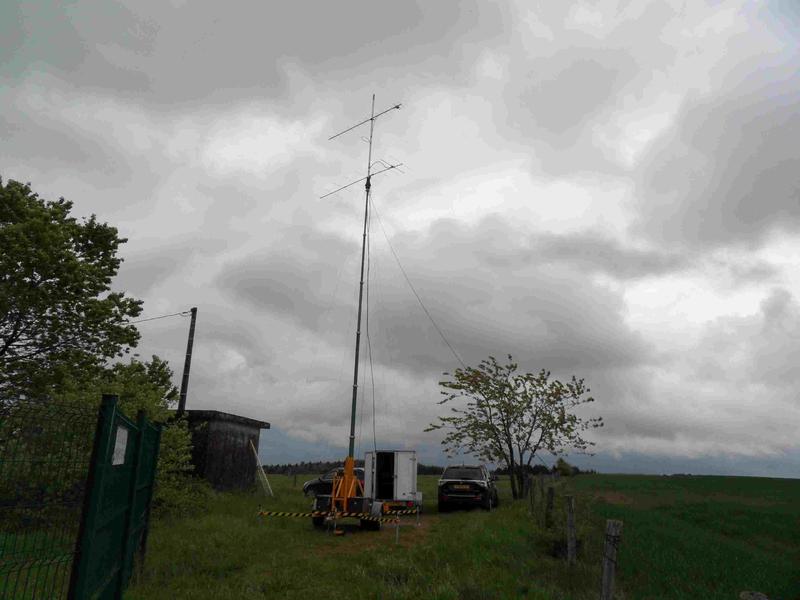 Equipment
Besides a lot of test-gear a combination of home-brew and other RF TX/RX equipment.
TS850SAT var. vertical's & WD3 horizontal
IC7000 for 50 70 144 and 432 various ant
Yeasu all mode TRX
Braun 144 MHz TRX
Lot of SDR TRX
Hack RF
FiFi SDR
LIMA SDR
HAM Fox SDR
ADALM-PLUTO
Mini-LIME
IC260 with Homebrew  50 MHZ transverter system
23 cm Homebrew 40 Watt quad loop yagi
13 cm Homebrew 100 Watt 24 el yagi
10 GHz 4 Watt TX system with Lenshorn antenna 30 dB
New : 2 mtr TELEFUNKEN  dish…..
at present preparations to control this dish. (sat's and EME)
A 40 cm parabola dish connected to the 4 Watt 10 GHz PA.
a range of antenna for the ham bands
Offset dish for 10 GHz reception
144MHz, 70cm. 23cm and 13cm yagi's ++
ATV & DATV reception on 70 and 23 cm's (DATV thanks to Tutioune & mini Tioune !!)
ATV transmission 23 cm's
more to come
fb 73's Robert
F4VSG
ATV, active on:
70 cm,
23 cm
13 cm
10 GHz
DATV:
70 cm
23 cm
13 cm
the first 10 GHz DATV tests have been succesfull !!
more to come
73 Robert